Seibu Yuenchi Amusement Park have confirmed that their pools will open from July 10th to September 5th in 2021. Last year, 2020, Seibu Yuenchi was one of only three pools that opened. This year more but not all of Saitama's summer pools will open. You can see which are opening and which are not here. Most of them are only opening for four weeks, so Seibuen's pools are one of the longest in 2021.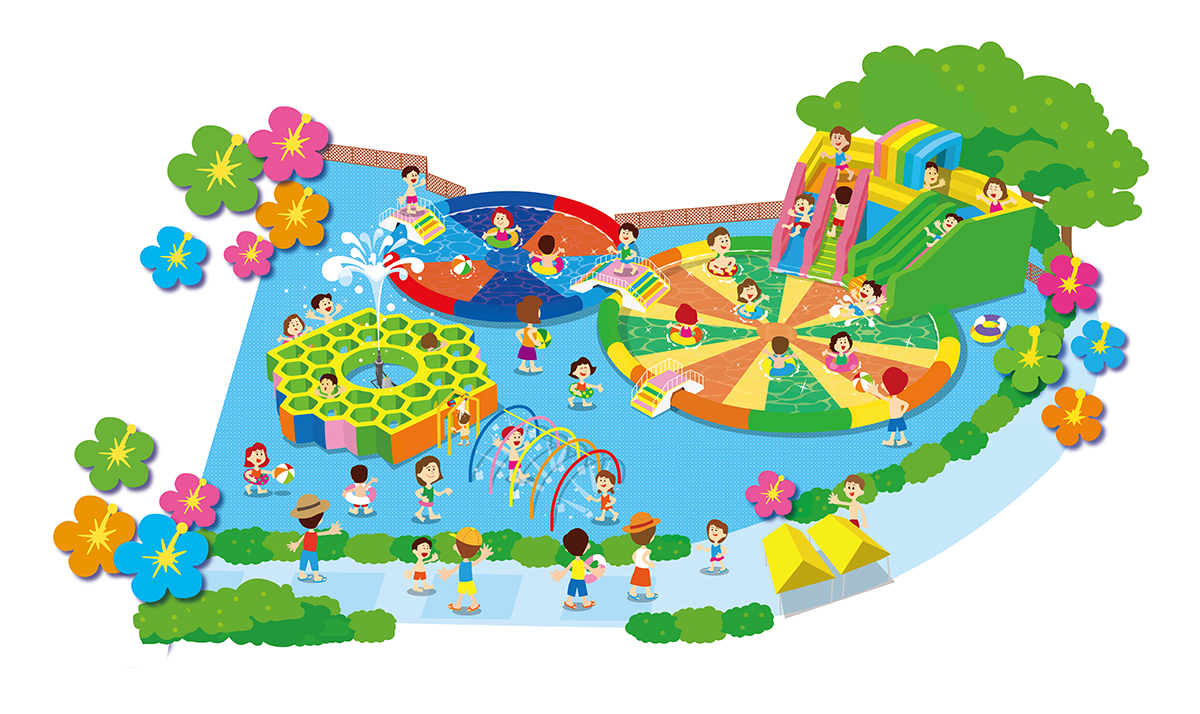 Seibu Summer Pools General Information
Seibu pools, the summer water park at Seibu Amusement Park, open their summer pools from the first weekend in July until the first week in September. They have a night pool on select dates from the middle of July.
Highlights
Water Slider with 6 different slides of different speeds
A wave pool
A flowing pool
Kids pool
Viking Bikke Exciting Water land
Hello Kitty Water Park
Challenge Air Athletic
Night Pool – this year on account of the Coronavirus it is more an "evening" pool! It will close at 7 pm. It is only available on select dates. You can check the most up to date schedule on the park's calendar here.
Seibu amusement park and its seasonal pools, beer garden and fireworks are popular with locals and as well as people from outside the prefecture. Many commute from Tokyo and further afield too and weekends can be very crowded during a "normal" year. However, in 2021 they will limit the number of people who can enter each day. You can book a ticket in advance here.
One of the highlights of the 2021 season is a large scale water fight festival.
2021 Information
In 2021 the pool will open daily from July 10th until Sunday September 5th. 2021 hours – it depends on the day. The base hours for the whole park are 10 am to 5 pm, except during summer holidays when it opens at 9 am. Generally the pools are open from 9 am to 5 pm on weekdays. And generally they open until 7 pm on weekends. In a non-pandemic year the night pool is open until 9 pm. Over Obon the pools generally open weekend times. You can see the most up-to-date schedule here.
Cost:
The price has gone up again in 2021. The day pass for adults and children over 15 is 2,900 yen. However, on August 7th, 8th, 14th and 15th when they have special events on, the price is 3100 yen. Kindergarten and primary school aged children and people over 60 can enter the pools for 1,900 yen on a weekday and 2,100 yen on days that there are special events on. Children under 2 are free. There are discounts for people with a Seibu Prince Club card.
(There is generally a water park for young children that starts before the pools. However, there is no information available yet for 2021. They may not be on OR like last year, they may release the information last minute. It normally costs 500 yen for two hours until mid July. Then after that the fee is included in the pool price. Only children aged between 0 and 11 years old can use the water park. However, an adult must accompany them.)
Miscellaneous:
4 pools (1 is massive) which include one 30 cm water depth pool that children in nappies / diapers ARE allowed into. Children over 3 are allowed to zorb on water with a parent. They have an "Hello Kitty Water Park" which is a separate water play area.
Seibu Pools Access:
5 minute walk from Seibu Tamako Line Seibu Yuenchi Station and Seibu Line Seibuen Station.
Parking for 1200 cars, the parking charge at the main car park has also gone up – from 1500 yen to 1800 yen. The overflow car parks cost 1500 yen. You also have to pay 100 yen to park a bicycle!
Sat nav/ GPS: phone number 042-922-1371
Other:
The amusement park normally launches fireworks during the summer and the park also has a seasonal beer garden. However, neither will be available in 2021.
For more pools in Saitama, please see the main events calendar.