Information for the night illumination at Tokorozawa Sakura Town. Get the most up-to-date information about the various illumination and light up events in Saitama's hippest entertainment town.
Tokorozawa Sakura Town
Tokorozawa Sakura Town has shops, restaurants, museums, a factory, offices, a public open space, event space, a shrine and even a hotel. An anime hotel at that.
A summary of what's available:
Illumination at Tokorozawa Sakura Town
Last winter was the inaugural night illumination at Tokorozawa Sakura Town, the entertainment center only opened (after many delays) in the summer of 2020. The maiden illumination was called "Fuyu Hanami". Fuyu means winter and hanami means flower viewing, particularly cherry blossom viewing. And of course the "sakura" of sakura town means cherry blossom. Accordingly, the theme of the first winter illumination was cherry blossoms. This year the theme is Hajimari no Hikari...
2021 – 2022 Winter Illumination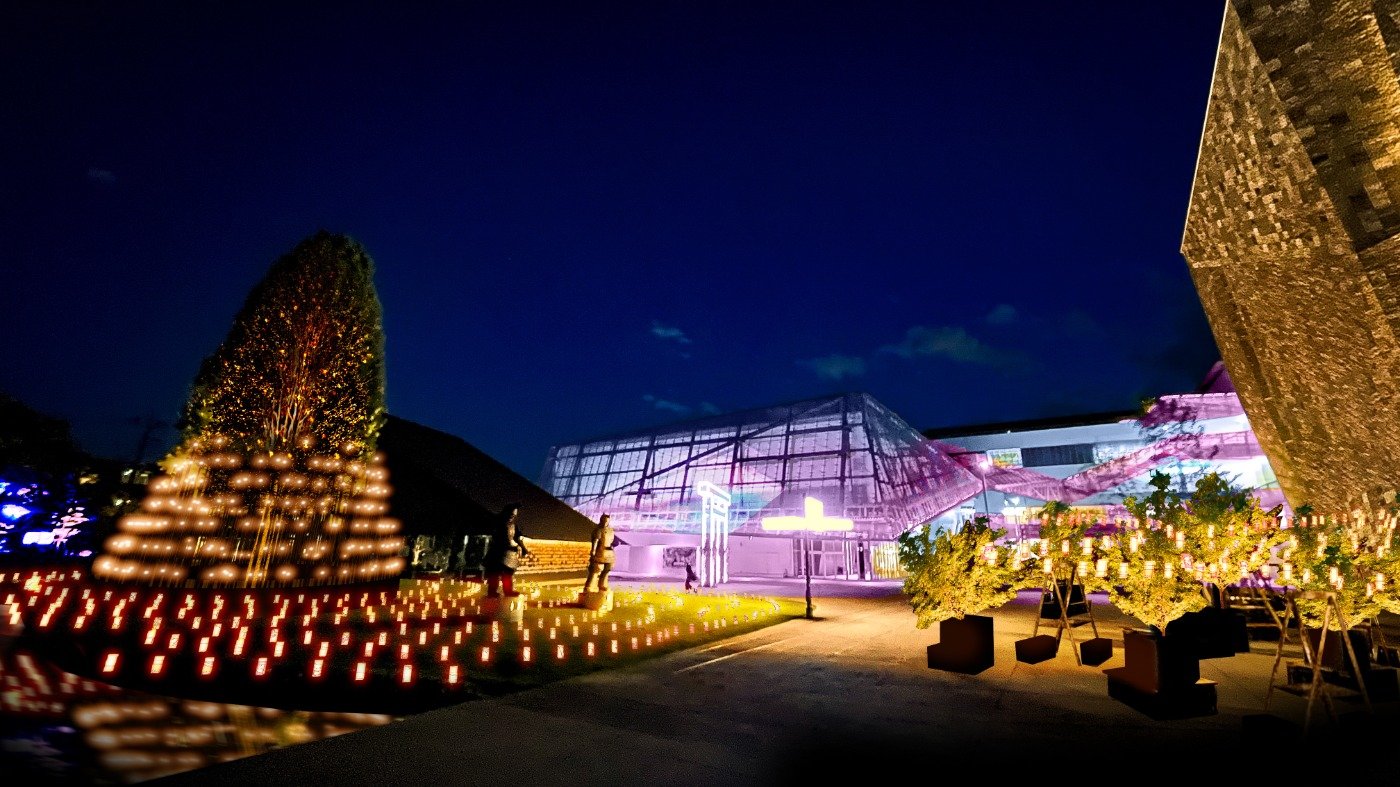 In 2021, there is a brand new theme. "Hajimari no Hikari" はじまりの光 which could be translated as the 'light at the beginning' or 'light of the beginning' or the 'opening light' or the 'first light' at a stretch. Interpret it as you will! The objective of the event as they put it is the 'coexistence of people, town and nature'.
The 2021 ~ 2022 winter illumination is on from Saturday November 6th until a date in February yet to be decided. It is a free event. They turn the illumination on nightly from 5 pm to 10 pm. There is a switch on ceremony on November 6th. There will be a hand bell performance. In addition, there is also a lantern workshop. The area of light up is around the 12 meter tall "symbol" tree. A koyamaki Japanese umbrella pine decorated with sparkling LED lights. Furthermore, they light up the torii of the Cool Japan shrine from 4 pm to 9 pm. From December 10th the fountain at Kadokawa Museum will also be lit up.
There maybe an outdoor ice rink in December too:
Tentative: Outdoor ice rink
Last year, as a special event, there was a temporary outdoor ice rink twice during December. Presumably, all things being equal, it will be back again this December (2021). This event has a cover charge. It costs 1100 yen for adults, 600 yen for school children and 300 yen for children under four years old. Also, you need to rent skates. They cost 500 yen a pair.
Update December 21st- there is still no word of an ice rink on their website, but this week they did release information about their events on Christmas weekend. You can get all the details here.
Illumination at TeamLab Acorn Forest
The permanent outdoor exhibition by TeamLab also has illumination nightly. Throughout the year.
There is seriously so much to do in Tokorozawa / Sayama area that you could spend a week enjoying all it has to offer. Here is just a small sample of things you can do in Tokorozawa / Sayama.
---
Access
Tokorozawa Sakura Town is a ten minute walk from JR Musashino Line's Higashi Tokorozawa Station. By car, the entertainment town is about 3.6 kilometers from the Kanetsu expressway. Parking costs 200 yen per half hour. The first half hour is free.
All images from the official website.
Find even more cool events and news for Saitama check the events category.
---