For the third year in a row the Tokorozawa Festival will not go ahead. In 2019 they cancelled the festival last minute on account of typhoon in Hagibis. In 2020 they cancelled the event early on in anticipation of a second or third wave of the Coronavirus outbreak. Furthermore, they have already announced that it will not go ahead in 2021 either.
---
Tokorozawa Festival
In previous years you could enjoy the festival over two days. However, since 2018 the main parade, music and street performances all happen on the one and only day of the festival.
Volunteers carry the mikoshi portable shrine up and down the main thoroughfare. Starting from the West exit of Tokorozawa Station to Kanayama area. You can see a lot of the activities around the Motomachi community wide space 元町コミュニティ広場 from 1 to 7 pm.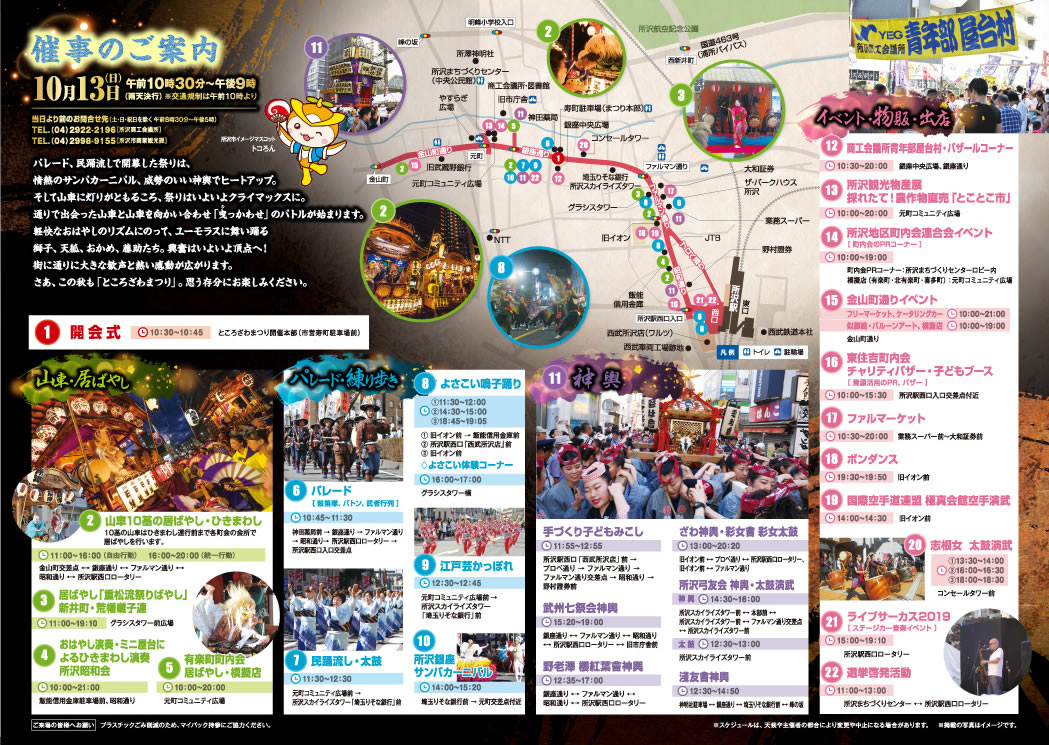 There are also festivities around the station area from early morning until about 8 pm. On that day you can not drive up the main thoroughfare until after 9 pm at night. Among the many things you can enjoy, apart from the mikoshi, are Taiko drums and yosakoi traditional dance performances, and traditional music. There is a bazaar with booths and stalls.
Access Tokorozawa Festival
The festival is held close to the Tokorozawa station which is on the Seibu Ikebukuro Line. Map in the grey details box at the bottom of the post.
Other events held in Tokorozawa:
Sunflowers at Tokorozawa Sunflower Field | TOKOROZAWA
Seibu Amusement Park Fireworks | TOKOROZAWA
Other things to do in Tokorozawa:
If you are a Ghibli fan you will not want to miss the chance to hike the Totoro Forests and visit Kurosuke's House in Sayama Hills. Tokorozawa is home to the very excellent Aviation Memorial Park and Aviation Museum.
For more events in Saitama please see the main events calendar.